Moving Details
Welcome to X01
Your move-in is soon approaching and we are looking forward to having you as a new resident. We would like to give you an overview of what to expect come August 15th, along with some helpful information.
All leases commence at 2 p.m. on August 15th. Please note that the contractors may still be in the unit preparing for your move-in on August 15th. Key pick-up will take place in the lobby of your building. August rent is due prior to key pick-up. You can set up automatic payments in your Tenant Portal. If you have not already received access to your Tenant Portal, please let our management team know. We ask that one leaseholder pick up all keys for the unit. This greatly expedites the move-in process.
If you need the assistance of a moving truck or van, we suggest planning this well in advance. Moving vehicles become limited in the Madison area during move-out and move-in time.
*Please note that many moving trucks/vans do not pass clearance into our underground parking garages.
Parking in downtown Madison on move-in day is very limited. LZ Management will open all of our lots on August 15th to accommodate our residents. Please be sure that you are parked at the correct address and actively moving belongings. Any vehicle parked without activity will be at risk of being towed. Please be respectful of others and move your vehicle out of the lot once you are done moving your belongings. If you have any questions or concerns regarding move-in parking, please talk to our staff upon key pick-up. We will have special accommodations for trucks with trailers, as well as large moving trucks. Neither of these vehicles will be able to fit in the garage. Please see the traffic map below.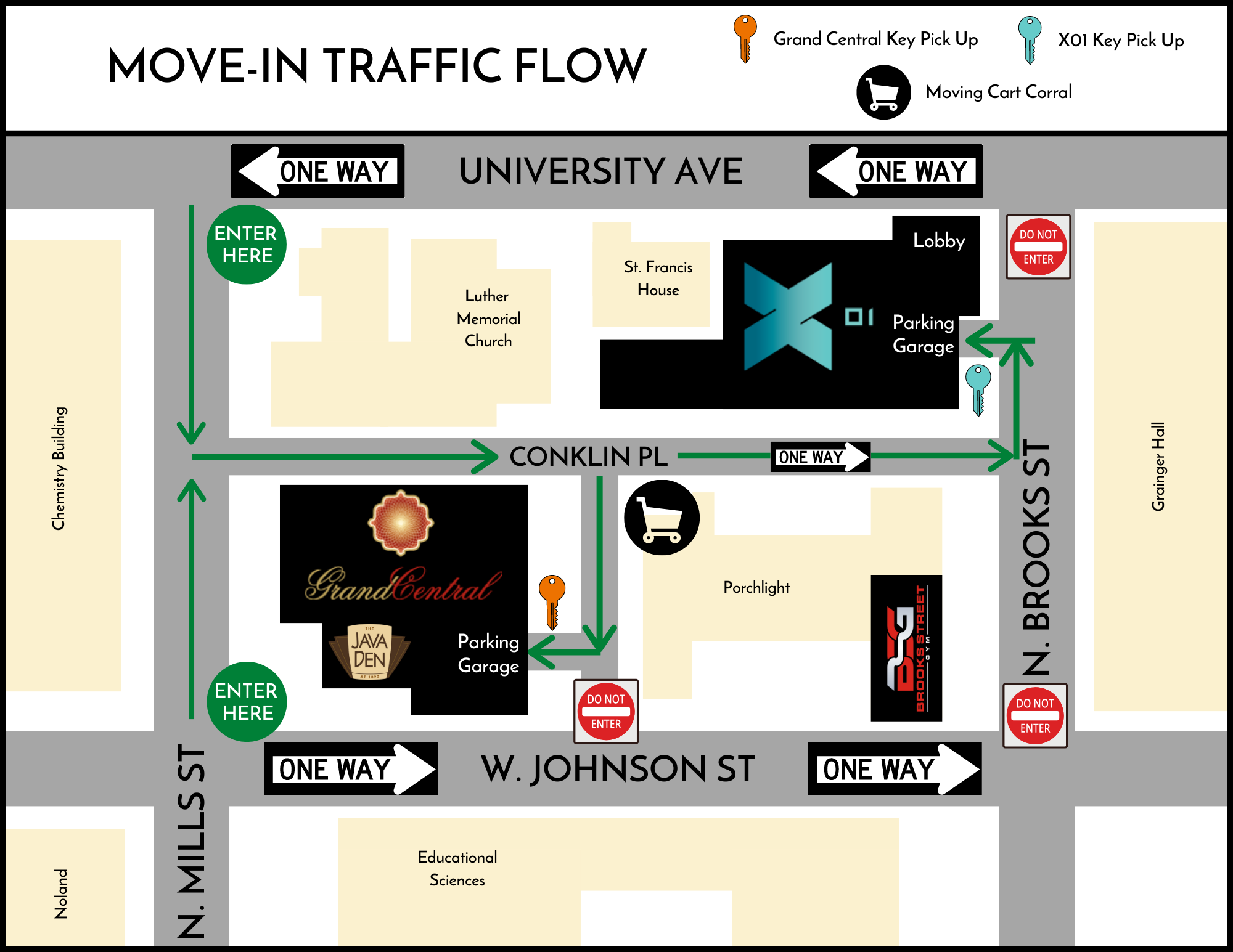 Wifi Router
Extra lamps
Shower curtain (for tub/shower)
Vacuum
Extra shelving
Small appliances (toaster, blender, etc.)
Pots and pans
Plates
Silverware
Bedding (all beds are regular length)
Over the door storage
Dish soap
Hand soap
Dish/kitchen towels
Cups/coffee mugs
Tupperware
Can opener
Knives
Pot holder
Trash can
Trash bags
Ziploc/storage bags
Paper towels
Food
Clothes hamper
Understanding Common Charges
$50.00 during normal business hours (Mon – Fri.: 8 a.m. – 4:30 p.m.)
$100.00 during non-business hours
Apartment key replacement: $50.00 (entire unit must be re-keyed)
FOB replacement: $25.00 (per individual)
Mail key replacement: $25.00
Unauthorized vehicles towed at vehicle owners' expense; up to a $500 fee
Window permit and parking puck must be visible at-all-times during valid contract dates
Objects thrown or dropped from the windows or balcony of the unit will result in fines and possibly eviction:
First violation: $300.00 fine per item (ex; 3 items x $300 = $900)
Second violation: $300.00 fine per item + eviction
Tenant agrees to maintain a reasonable level of noise at all times of the day and night, so as not to disturb or disrupt neighboring apartments:
First complaint: warning
Second complaint: $100.00
Third complaint: $150.00
$250.00 fee with $25.00 charge per day until pet is removed
We recommend using small nails or tacks to hang items on the walls. We advise against using Command strips and other adhesives (like those that come with LED light strips), as they frequently cause drywall damage upon removal.
Always use a shower curtain when in the shower. Water leaking onto the bathroom floor can cause drywall damage, which is not considered normal wear and tear for the purposes of your security deposit.
Do NOT jump or rough house in the elevator. This will cause the elevator to shut down, and a technician will need to come in to reset it. The bill for this service will be forwarded to you ($2,000+).
Unless renewed, all leases end on 08/13 at 8:30am. We are unable to accommodate any later move-out requests.
Update your forwarding address at USPS.com/move well in advance of moving out of X01. Letters and packages will not be stored for you after you vacate and will be sent back with the carrier. Also, consider changing your shipping address with online retailers.
The security deposit for your unit will be mailed within 21 days after your lease ends to the payee as designated by your lease.
Moving carts will be available on a limited basis. The parking garage is available to use while you are moving.
Renew with us to avoid the headache & chaos of moving!
Have more questions?
Feel free to contact your property representative directly to assist with any additional questions you have. On behalf of our entire staff, we look forward to having you as our resident.
Sincerely,
LZ Management
Contact Us